If an NFL punter is taking steroids, surely someone on the PGA Tour has
The ongoing steroid witch hunt has taking another step towards proving just about everyone is cheating these days. Tiger Woods wants steroid testing while Tour Commissioner Tim Finchem says its not necessary. I think Woods may be more right…
The Carolina Panthers, who reached the Super Bowl in 2004, reportedly had a handful of players jacked up on 'roids. While it's no surprise three of them were meathead offensive lineman, the most hilarious thing to come from it is that the team punter - yes, punter - has been identified (and it's not even the boneheaded Mike Vanderjagt, he's just a drunk).
Punter Todd Sauerbrun is taking steroids? Then who isn't? Was he just trying to fit in and put an end to all those dorky kicker jokes, or did he really think it would get him more distance on his kicks? Talk about desperation to gain an edge, a desperation that's likely tempted many golfers struggling in Q-School or to keep their valuable tour card.
These players weren't just taking a pill or a shot here or there either, the report says they were taking incredible amounts and in dangerous combinations. Players also complained of losing hair and shrunken testicles (proof God himself has a sense of irony).
If the NFL, which probably has more substance abuse problems than baseball or cycling hasn't been able to realize how serious this is, this issue isn't going away anytime soon.
Then again…with Tiger's newfound invincibility, maybe the PGA Tour should allow all the other players to take a moderate dose of Aderol and Steroids (for mind and body of course) to make things a little more competitive.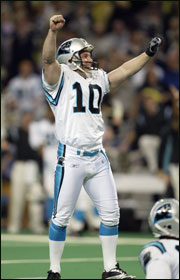 Todd Sauerbrun: Horray for shrunken testicles!
5 comments
What benefits would it give golfers? The main purpose of steroids, as I understand, is to allow you to recover quicker from a workout. So some dude golfer is going to recover quicker from a putting practice session? However, I don't think Tiger would raise the issue unless someone were actually on the 'roids.
08/28/06 @ 19:43
I wonder if Fincham has heard of the idea of being proactive ? Find out now, stop it now not later when the whole world is pissed of at the PGA for taking no action?

A little embarrassment now would be much preferable to Blazing headlines about "head-in-the-sand" or sitting on ones hands till it's broke.

I have no idea if there is doping going on in the game of golf, but given all the stories we read about drugs/doping in other sports, I'd bet on steroids or some enhancer being used by someone in the sport.
08/28/06 @ 19:47
I agree with Ron. Taking steroids wouldn't have the same effect on golfers as it does on guys in other sports.

I think John Daly's approach is best. Stick with the Dunkin' Donuts and wash it down with some TrimSpa.
08/29/06 @ 08:29
While their may not be that many PGA tour pros using steroids-the Long Driving guys-(example-Pinnacle Posse)-would surely benefit from taking them.
08/29/06 @ 21:20
Comment
from:
Spencer Hux
[Member]
I think there are certainly some advantages that golfers could find from steriods. Not every athlete taking these things blows up and loses flexibility. Look at Jason Grimsley.

Ron and Stacey- steriods not only give the advantage of recovery, they also give the advantage of speed. More speed in a golfer's lower body translates to more club speed, which translates into more distance. Don't let a player's size fool you.
08/31/06 @ 19:00
Comment feed for this post
Leave a comment