Krakow Valley in Poland has high-caliber post-golf activity
So what's your ideal post-round hangout? A few beers at Buffalo Wild Wings or a BBQ on your buddy's patio? Watching SportsCenter or playing some Golden Tee?
I still haven't found an "All-you-can-eat" joint in Europe yet (God bless America and their endless bowls of chips and salsa). But I have found the perfect way to take out all your post-round frustrations.
Krakow Valley in Poland has a gun range just steps from the 18th green.
Shank your pitch on the 12th? Lip out your par on the 14th? Sick of playing a "mental game" for four hours? That's nothing a few handguns can't solve. The range has an assortment of rifles and handguns. You rent the guns, buy the bullets and shoot away. It's cheap, and there's no license necessary.
It gets me to thinking, how come Poland and not northern Michigan courses have gun ranges right next to their golf courses? I mean think about all the hunters, KKK members, Michigan Militia and Uni-bombers who've resorted to that neck of the woods…
Retraction: I would like to thank northern Michigan golf courses for not having gun ranges next to their golf courses.
They also have horseback riding, but I don't think I've met a golfer who was just itching for a gallup following 18 holes. And there's a nice little pub in the hotel lounge and there's always a football match on TV. No all-you-can-eat wings though…
It's all supervised of course, and if you've been doing some .5 liter curls all afternoon they won't let you in. Full features and reviews on my trip to Poland coming soon…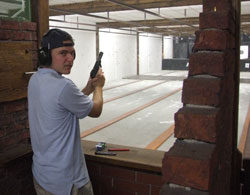 Go ahead, make a nasty comment on this post…
2 comments
I wonder if they set up that gun range off the 18th so you can bean your playing partner after he beats you holding out his hand with a smirk for the twenty you owe him?

And, how about slinging your bag across the horse and "hoofing" it for a round? ;-)
08/24/06 @ 14:11
Comment
from:
Krakow Andreas
[Visitor]
Those crazy Poles giving a gun to somebody that has just lost a game of golf- this is Poland. But if you are looking for more info about Krakow then I recommend www.krakow-poland.com
11/11/08 @ 08:58
Comment feed for this post
Leave a comment