The FedEx Cup will never be a classic - stick to the PGA Championship, Ryder Cup and majors
Here is the one and only reason why the FedEx Cup series and year-end tournament will never be that big of a deal - even if Tiger Woods flies in from one of his private hideaways in the Pacific every once in awhile to compete:
It's called the FedEx Cup.
Really, PGA Tour? You needed a sponsor? Gotta squeeze out every couple million you can? Hasn't Tiger made you all enough money???? Now you're canceling his "winter happy time" just as soon as he finds a knockout wife to spend it with? He's gotta be pissed.
I know there's a Nextel Cup, but Golf fans are a little more affluent than car racing fans. The Masters is so sacred it can't even have the normal allocation of commercials. A sponsor might make your tour a little extra cash immediately, but in long-term marketability, you've screwed your greedy-little-selves.
"Jack Nicklaus wins his 4th Wheaties Green Jacket!"
"Tom Watson dominates the field at T-Mobile's St. Andrews!"
"Red Wings hoist 11th Tim Horton's Stanley Cup!"
Corporate sponsorships takes away credibility from a championship (unless of course Michelle Wie has been exempted). You have to make it timeless - put a story behind it filled with important white old men - preferrably wearing monocles and drinking scotch while beating their caddie. Call it the Bobby Jones Cup. Who cares if he had nothing to do with it? It'll be more important because there are no color photographs of Bobby Jones.
Having an end-of-year tournament that crowns a season-long champion is a great idea. Long overdue. Sadly it should have been done before the big sellout. As "Number 2″ in Austin Powers profoundly stated: "There is no 'world' anymore, it's all corporations".
Case in point: The Ryder Cup Matches remain a big deal - despite its funky, obsolescent format because it's called The Ryder Cup and there's a quirky little story involving some funny black-and-white photographs.
Wait a second, isn't there a moving company called Ryder?
I give up.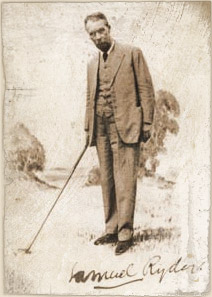 Old photo = big deal
10 comments
Comment
from: Kevin Nichols [Visitor]
>>"Having an end-of-year tournament is a great idea. Long overdue."
What do you call the
PGA Grand Slam of Golf
?
08/15/06 @ 13:31
Comment
from:
Brandon Tucker
[Member]
I'm talking about a tournament that crowns a more formal, season-long champion. The Grand Slam winner gets little more really than the winner of the John Deere or any other non-major. I think the points system with a finale is a better solution than voting a "Player of the Year" for sure.

08/15/06 @ 13:38
"Jack Nicklaus wins his 4th Wheaties Green Jacket!"
"Tom Watson dominates the field at T-Mobile's St. Andrews!"
"Red Wings hoist 11th Tim Horton's Stanley Cup!"

This will eventually happen.
08/15/06 @ 14:06
Jeez, Booger, what a horrid thought.
Lord Stanley would have a cow.
But the reality is that I can see exactly that happening. No wonder Gretzky moved to LA. Who would want to play in the Sky-Reach Center?
Tim Hortons Stanley cup? Yech!


Oh for the days of the original six NHL teams and Foster Hewitt doing play-by-play on Hockey Night in Canada on a Saturdy Night.
08/15/06 @ 21:29
Ryder is a truck rental firm. kinda like the movable tournament and it's results, rental spaces for affleunt golfers to piddle away a weekend, lol
08/15/06 @ 21:31
The Western Open being prefaced by a hard-on stimulant (Cialis) was the worst offender, but now the degenerate Western Golf Association is totally erasing it by turning it into the BMW Championship, one of the absurd "playoffs" ahead of the FedEx Cup final. The Western Open, one of our most historically significant tournaments has effectively ceased to exist. The ruling caste of golf are all about money, not golf. Degenerates! Bums!!!!!
08/16/06 @ 11:49
Comment
from: Judge Smails [Visitor]
Brandie,

Your musings smack of a contemptible disdain for tradition. Yes, I think old photos can very well be a "big deal" because they, like other things, remind us of our past, of where we came from.

And there are many important reasons to remember the past; ever hear of "history"? "He who forgets the mistakes of the past is damned to repeat them" and, to paraphrase C.S. Lewis, the forces of evil do want to disassociate the generations from each other because then the characteristic strengths of one generation will not be able to correct the characteristic faults of another.

You remind me of Mao Tse-tung, who tore down hundreds of miles of the Great Wall so he could use the stone for some communist project. Thank God he's six feet under; it's just too bad it didn't happen sooner.

I'm not that old, but when I read your philosophically bankrupt commentary I'm reminded of what Shaw said: "What a pity it is that youth is wasted on the young."

Seek Truth, Brandie, because wisdom doesn't always come with age. Sometimes age just shows up all by itself.
08/16/06 @ 22:20
Comment
from:
Brandon Tucker
[Member]
Americans angry at FexEx Schedule
.
The PGA of America reads my blog apparently :-) - now they say the FedEx Cup isn't as important as the Ryder Cup and are angry at the scheduling.
08/17/06 @ 03:47
Comment
from: Golf Goddess [Visitor]
Judge Smails, your musings smack of a contemptible distain for sobriety. Try and read more than the last line of a blog. Focus!
08/22/06 @ 17:35
Yes the name is terrible. I can't stand corporate sponsored names. Doesn't matter if they are tours or venues. Sorry I got here late, but just found you.
11/11/08 @ 07:22
This post has 1 feedback awaiting moderation...
Comment feed for this post
Leave a comment